«Willisau and All That Jazz»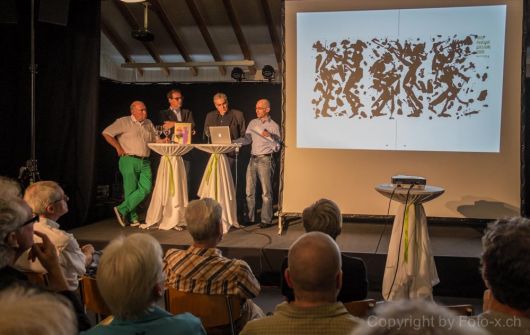 Vorgestern waren wir in Willisau an der Buchvernissage von «Willisau and All That Jazz».
Links aussen in grüner Hose Niklaus «Knox» Troxler, rechts aussen Mitautor Oliver Senn. Da ich selber den riesigen Ziegel erst von aussen gesehen habe, kann ich nichts weiter dazu sagen, als: Es ist sicher interessant und sicher gut korrigiert (korrektorium.ch) ;-)
Wen's interessiert, der kann sich die 700 Seiten für CHF 78.– bei der Buchhandlung Alter Ego www.alterego.ch bestellen.
978-3-03828-000-2
978-3-03828-000-2
Willisau and all that Jazz
Eine visuelle Chronik

Niklaus Troxler/Oliver Senn
Till Schaap Edition
978-3-03828-000-2
978-3-03828-000-2
978-3-03828-000-2
978-3-03828-000-2
978-3-03828-000-2
978-3-03828-000-2
ISBN: 978-3-03828-000-2

Und wieder einmal hat sich die Fuji X-Pro1 bezahlt gemacht und hervorragende Dienste geleistet. Fujinon 18mm (35mm/KB), 1250ISO, 1/60Sek, ƒ/2.8

Kommentare
Antwort schreiben